WSS Series Wireless safety system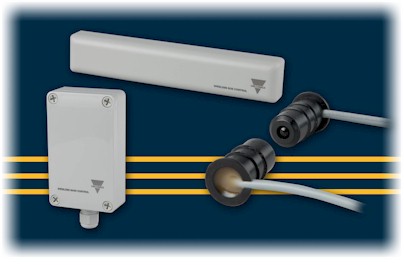 Carlo Gavazzi proudly launches a new Wireless Safety System for industrial automatic doors. The WSM/WSS eliminates the need for coiled cables between the door and the door controller, thus eliminating the possibility of damaged wires rendering a door inoperable or unsafe.
The WSM/WSS system consists of a main module (WSM) which interfaces directly with the safety input of the main door controller. The main module in turn can monitor up to 4 sub-controllers (WSS). Each sub-controller is powered by 1-4 batteries, and can monitor 2 safety edges, or 1 safety edge and 1 door-in-door sensor. The system is completed with our new PB11 low power consumption photoelectric sensors for safety edges. Power for the PB11 is supplied by the sub-controller. The system will also work with many safety edge products already on the market.
Some additional features of the new WSM/WSS include:
2.4 GHz duplex communication
16 selectable (via dipswitch) channels
Low battery signal output relay
LED indication for power, output detection, low battery, and channel synchronization
25 Hz operating frequency
Test input for safety check
Built-in antenna
10m range between main controller and sub-controller
The main controller (WSM) operates on 12-24 VAC/DC, and each sub-controller (WSS) will work with 3rd party safety edges and mechanical switches. The WSM/WSS is ideal for new construction installations as part of a complete safety system, or as an enhancement to existing installations.
The controllers and sub-controllers are fully synchronized and multiplexed, operating on 16 different channels, so no crosstalk interference can occur amongst individual sensors. The system meets all relevant global standards, and complies with all FCC and Canada IC regulations, with cUL and CE approvals for assurance of high quality and safety.