Versatile Photoelectrics with IP69K Rating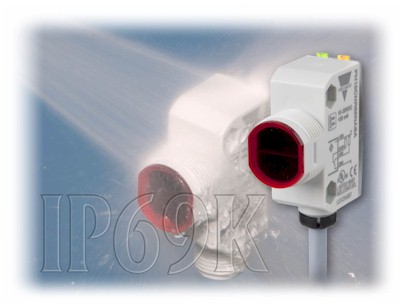 Carlo Gavazzi proudly launches a new generation of compact photoelectric sensors in a combination rectangular and M18 housing, for universal mounting. The versatile PH18 Series brings new features, longer sensing ranges, and new options - in a housing that fits just about anywhere!
The new housing design of PH18 allows the sensor to be mounted to a bracket using mounting holes & screws or as a traditional M18 sensor with mounting nut. In addition, a new snap mounting bracket that provides a flush mount with a single jam nut is included with every sensor. And the new PH18 is IP69K rated for high pressure/high temperature wash downs, with ECOLAB certification for food & beverage applications.
Some additional features of the new PH18 include:
Diffuse sensing up to 1m
Retro-reflective sensing up to 6.5m
Polarized retro-reflective sensing up to 5m
Through-beam sensing up to 20m
All models have a potentiometer for easy adjustment of sensing range
Two LEDs indicate signal quality and power and target detection
Can withstand high temperatures (176°F/80°C) and high pressure (1,450 psi) cleaning
Laser printing replaces labels, so key information stays intact even after cleaning
Normally open and normally closed outputs in every sensor
Supply voltage 10-30 VDC
Connection options include 2m PVC cable, M12 quick-disconnect plug or a M12 pig-tail
The new PH18 Series is a sister product to our very popular and successful PA18 Series. Carlo Gavazzi now offers you more choices than ever before in compact photoelectric sensors – more sensor choices, more industries, more applications and more features! And all at prices that are amongst the most competitive in our industry.
In short, the PH18 and PA18 give you more …for less! And with cULus and CE approvals and ECOLAB certification, you can be confident that these sensors are high quality, safe and durable.