Photovoltaic Surge Arresters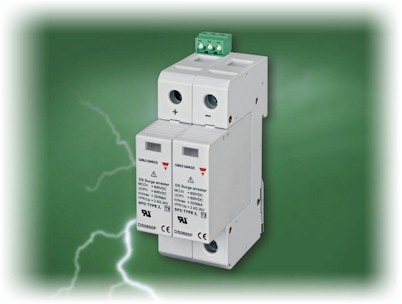 Carlo Gavazzi is proud to announce the launch of our new DSF-PV Surge Arresters. Compact and DIN rail mounted, these devices protect the long-term investment of photovoltaic (PV) installations and feature Type 2 (Class C) protection from transient over-voltage due to indirect atmospheric discharge and switching actions. Approved per UL 1449 3rd Edition, CSA and EN61643-11 (VDE 0675, part 6-11), the DSF is compliant with future norm EN50539-11 and the new French standard UTE#C 6-740-5, which specifically prohibits the use of fuses for mandatory backup protection. Our special internal technology provides for backup protection enabling the DSF Series to be safe in the event of a short circuit, saving cost and space of fusing. Our new DSF Surge Arrester is the solution for combiner box manufacturers and as a replacement for older products.
Significant advances in technology yield a product representing the best-of-the-best in PV surge suppression. Internal varistors are protected against any leakage current that would otherwise damage or cause premature aging when the nominal DC voltage is temporarily exceeded. This condition is likely to occur in the early hours of daylight when the solar panels are cold. A red optical indicator shows the protection status and voltage-free contacts offer remote status monitoring. The removable plug-in cartridges ensure fast and easy maintenance without the removal of any connections.
Type 2, Class C according to EN61642-1, UTEC 61-740-51
Ready today for future norm EN50539-11
Leakage current limit prevents damage even in event of sustained over-voltage
New technology protects the varistor in cases of temporary over-voltages
Optical cartridge status indicator
Plug-in cartridges makes replacement fast
Voltage-free contact for remote monitoring
Thermal and dynamic separating device
Assembled and ready to install on DIN rail
The DSF Surge Arresters are approved UL1449 3rd Edition, CSA and carry the CE and RoHS marks, your assurance of high quality and safety.