Omron Digital Thermometer MC-670-E Wins Reddot Design Award
OMRON Healthcare Co., Ltd., a wholly owned subsidiary of OMRON Corporation announced that its i-Temp digital thermometer (model MC-670-E) wins Reddot Design Award (*1), in the category of Product Design 2008.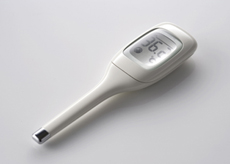 Reddot Design Award is recognized as one of the top three renowned design competitions (*2) in the world and awarded by Nordrhein Westfalen Design Center in Germany since 1955. Each year many entries are submitted from throughout the world for a variety of industrial products. There are three different categories for the awards: 'product design', 'communication design', and 'design concept'. The entries are reviewed and evaluated according to the nine criteria such as degree of innovation, functionality, formal quality, ergonomic consideration and environmental friendliness to honor excellent and outstanding designs. In 2008, total of 3,203 submissions were made from 51 countries throughout the world, and 676 products were selected as the winners.
Our award-winning thermometer, i-Temp (MC-670-E) is the European version of the model MC-670, which was launched in Japan in November 2004. Sharing many features with MC-670 - a flat tip that allows users to hold it comfortably in the armpit, a large, easy-to-read LCD and a sleek body that fits easily in the hand - i-Temp was released in Europe, the Middle East and Africa in October,2007. i-Temp was highly regarded by the judges for its easy-to-read large LCD, innovative and functional design and its high quality for users of all ages. i-Temp also won the 'iF Design Gold Award' in 2007.
Reddot gala award ceremony will be held on June 23, 2008 in the Essen Aalto-Theater. The award-winning products were exhibited in Reddot Design Museum from June 24 to July 27, 2008 and will be preserved there permanently thereafter.