OMRON Adds Secure RFID Protocol to V750 Series UHF RFID Reader/Writer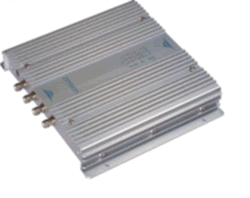 OMRON Corporation (TOKYO: 6645, ADR: OMRNY) today announced that, in cooperation with Hitachi, Ltd., it has achieved compatibility between its V750 series UHF RFID reader/writer and Secure RFID Protocol. Additional security functions provided by the protocol will be available as an option beginning in July 2008.
Secure RFID Protocol was developed through the Secure Electronic Tag Project led by Japan's Ministry of Economy, Trade and Industry (METI), with Hitachi as a core partner, from August 2006 to March 2007. The protocol provides enhanced security functions including communication distance control, which restricts the communication range of tags, and reading prohibition, which limits access to tags through password authentication, while maintaining compatibility with the UHF RFID international standard ISO/IEC 18000-6 Type C. A Secure RFID Protocol-ready IC developed by Hitachi, "µ-Chip(mu-chip) Hibiki," is already on the market.
RFID in the UHF band (860MHz to 960MHz) realizes longer communication ranges among passive-type tags and conducts faster and more diverse data processing as compared with HF band (13.56MHz) systems. Prompted by major retailers in the USA, UHF RFID systems are increasingly being used around the world in areas ranging from manufacturing, distribution and logistics to stores, offices, public services and amusement/sports facilities. However, in open systems shared by multiple companies, one company's unique data (embedded on a tag) could easily be passed on to other companies along with shared data. The fact that all companies in an open system can read and alter all the data on tags is becoming an obstacle to the utilization of RFID systems.
To date, Omron has developed a number of RFID reader/writers, inlays and tags mainly focusing on the HF and UHF bands. Omron's products are designed not only to comply with common standards, but also to easily incorporate new functions and advanced technologies developed in response to market needs. By readying the V750 reader/writer for Secure RFID Protocol, Omron acknowledges that protecting company and product information is critical to increasing the use of RFID in distribution and logistics. In Japan, feasibility studies and trials of secured RFID systems are increasingly being carried out by book and home appliance distribution chains, and Omron intends to proactively participate in those studies.
New functions can be added to the V750 reader/writer by updating or supplementing its firmware. Secure RFID Protocol will be separated from the standard functions provided by the current product, and will be offered as an option to be added upon request. The protocol will be ready for the Japanese version of the V750 reader/writer in July 2008; other versions will be provided based on the protocol's popularity in other countries.
The Secure RFID Protocol-ready V750 reader/writer can be seen at the Hitachi Group and Nissei Limited booths (West 10-53 and West 13-11, respectively) at the 3rd RFID Solutions Expo (RIDEX), being held at Tokyo Big Sight from May 14-16, 2008.
Yo Nakajima, General Manager of Hitachi's Security Smart ID Solutions Division, offered the following remarks on the V750 reader/writer: "Hitachi welcomes the start of sales of interrogators that support the Secure RFID Protocol. The protocol has been developed with partners aiming to realize functions that fulfill needs for UHF IC tags in Japanese industry. We believe this protocol will expand worldwide and become the optimal UHF IC tag air protocol in the distribution and logistics area. We are expecting full-scale diffusion and market expansion of secured IC tags, triggered by sales of Omron's V750 reader/writer. Hitachi will also keep making efforts to promote the protocol, and by so doing contribute to realizing a securer, safer and more comfortable society with all of our partners."